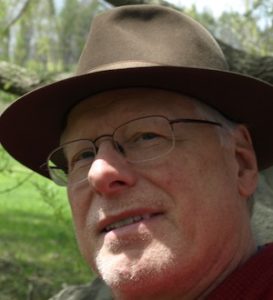 CW Hawes is an author and award winning poet. His interests are wide ranging and this is reflected in both the genres and the contents of his books. He is the author of the post-apocalyptic The Rocheport Saga, Justinia Wright, Private Investigator Mysteries series, the alternative history Lady Dru Drummond novels, and several stories of the macabre and arabesque. 
Among CW's many interests you will find a love for fine food, tea, music (classical, swing, folk, and '50s and '60s pop), philosophy and mythology, art and architecture, books, history, nature, writing instruments (especially fountain pens and dip pens), airships, and steam power technology. All of these find a place in his writing.
He is married to Raihana Dewji, who was a graphic artist for 3M and currently paints and draws fine art and produces book covers.
CW was born and raised in Cleveland, Ohio and has made his home in Minneapolis, MN for the past 45 years. He has sojourned in Pennsylvania, New Jersey, New York City, Wisconsin, and Iowa. For thirty years he was employed by Hennepin County in Minnesota and worked in human service. He retired in 2015.
You can get in touch with him on Twitter, Facebook, and at cwhawes "at" cwhawes "dot" com.
Guest Appearances and Interviews
Check out my guest appearances on other blogs!
The Old Shelter – Majestic Giants of the Air
On Steve Bargdill's blog, my post "One Afternoon"
And interviews!
See what books I like in my One Book Interview with Andy Graham!
Checkout my interview on The Speculative Fiction Cantina!
Angela B Chrysler – Honored Guest
My AwesomeGang interview!