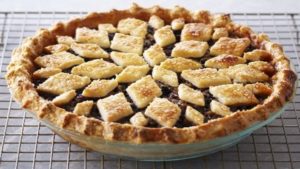 Mincemeat pie (or mince pie) is a holiday tradition on many tables and, like fruitcake, one either loves it or hates it. I love both! The Yuletide would not it be the same if it weren't for mincemeat pie, fruitcake, and even the occasional plum pudding.
So what exactly is mincemeat? Historically, way back in England, to mince meat was to cut meat into a very fine dice. In today's British English, mince meat is the same as American ground beef. Although technically a grind is even finer than a mince.
And because there was no refrigeration many centuries ago, minced meat was preserved for the long winter months by mixing it with sugar and spices. This mixture was then used by baking it as a meat pie for the main course of the meal.
Over time, fruit was added to the mixture: apples, raisins, and currants. Suet was also added, along with alcohol to preserve the mixture longer.
Today's store bought mincemeat mixture is basically fruit and sugar. No alcohol. None Such brand does contain beef, but it is way down on the ingredient list. I've used None Such in the past and I can assure you, you can't taste the beef. Just a sweet raisiny, apply, spicy mixture of doggone goodness.
This Yuletide, I'm using Crosse & Blackwell Mincemeat. There is no meat in the Crosse & Blackwell mixture. Just heirloom Pippin apples, raisins, orange peel and juice, sugar, vinegar, salt, spice, and tapioca syrup — which makes this brand suitable for vegetarians.
I'm interested to see how the two brands compare and will let you know.
Of course you can make your own mincemeat. Recipes abound on the Internet. I've found a few that look very interesting and next year I may make one of them. Many years ago, I made a green tomato mincemeat that was truly delicious. And recipes for this mock mincemeat are plentiful on the Internet as well.
Mincemeat is a wonderfully spicy concoction that can be eaten anytime and anywhere. I like it in place of jam on toast.
If you've never had mincemeat, I encourage you to try it. It is an English tradition that dates back to at least the Middle Ages and is an American tradition that dates back to the first colonialists. You just might find a new tradition for your own holiday table. And if you already like mincemeat, you know what I'm talking about.
As always comments are welcome! And until next time, happy reading!
Share This!