Next week I'll publish The Conspiracy Game, the 4th book in the Justinia Wright, PI series.
Back in 1982, when I read Raleigh Bond's story "Meet Athalia Goode", the editor of Ellery Queen Mystery Magazine made the complaint there weren't enough female detectives. Which, at the time, was very true. Other than Miss Marple and a Sharon McCone mystery, the only other female sleuths were out of print Victorians.
However, 1982 was a seminal year. For it saw the appearance of the second Sharon McCone mystery and the introduction of Kinsey Milhone and V. I. Warshawski. Since then, there has been an explosion of female sleuths to the point where they now seem to dominate the field.
Justinia Wright was born in 1982, in the hopes she'd be my claim to fame. Unfortunately another seven years would pass before her first adventure, Festival of Death, was committed to paper. And in so doing came the realization my fiction writing skills were not yet up to the task.
Another twenty-five years would pass before I'd re-write and much improve Festival of Death. Now there are three novels, three novellas, and five short stories chronicling her adventures.
I hope the two initial chapters from The Conspiracy Game wet your appetite to read more of the stories of my favorite characters: Justinia and Harry Wright. Enjoy the sample!
The Conspiracy Game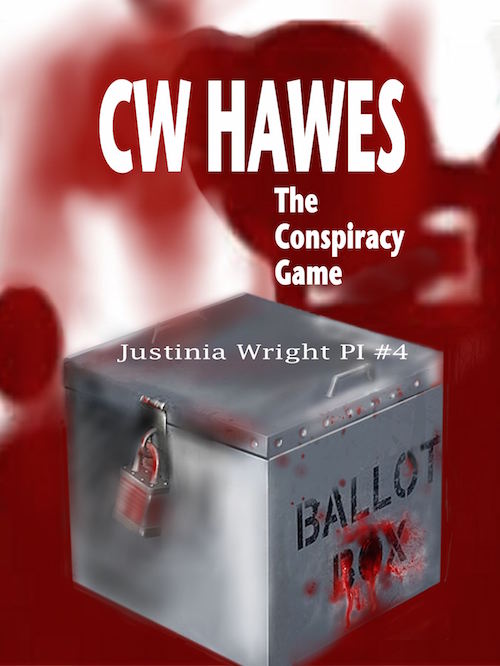 1
She's Not Here
Friday Night into Saturday Morning
September 19th to 20th
Cut a flatworm in half and you get two flatworms. Unfortunately, private investigation agencies aren't flatworms. Take the best detective out of the agency and you're left with an agency that doesn't have its best detective.
Which helps explain why Bea, my wife and assistant, was at home in the office holding down the fort, while Ed Hafner and I were sitting in my car waiting for a man by the name of Darren Clay to emerge from the bar we'd tracked him to. I was getting paid all of $475 to find the guy and serve him the summons. And because Ed was sitting next to me, I wouldn't get to keep all of it.
Ed is one of the three freelancers Tina hired when she needed extra hands, feet, ears, and eyes. Only Tina didn't hire him. I did. Harry Wright, the guy now running Wright Investigations.
"Any idea when she's coming back?" Ed took a bite out of his burger. The "she" he was referring to was Tina, my sister, and the Justinia Wright behind Wright Investigations.
"No. I don't even know where the hell she is, Ed."
"I don't mean to pry, but that must've been one helluva big fight she and Lieutenant Swenson had."
"It was big. In fact, it was gargantuan."
Tina and Cal Swenson have been on and off lovers since before I came to live and work with her, some half-dozen years ago. Through it all, they remained friends. However, this time was different. Not only did Cal read her the riot act for withholding evidence and obstructing justice, he threatened to yank her license, and told her he was sleeping with his partner and wouldn't be coming back to live with her. Couple the threat and the revelation with the fact Tina pulled a gun on him and, yeah, it was very much one helluva big fight.
Four days later, Tina packed a suitcase and left. Not one word as to where she was going or what she'd be doing. Nothing. Nada. Zip. Zilch. Just said, "goodbye", and that she'd be in touch. And keep in touch she did, up until six weeks ago. A weekly text message saying she was fine and then, "I'll be out of touch for awhile. Always remember, I love you, Harry. Bea, too." And that was it. Now nothing and I'm worried sick about her.
Bea and I have done what we can to keep the home fires burning. We've fed her cats. We've kept the agency open taking whatever work comes our way. It's not a lot, though. Without Tina, Wright Investigations is just one among many. The work, such as it is, does keep Bea and me in practice. We've also learned shorthand. Just in case. One can't always use a digital recorder and being able to take down a conversation in shorthand seemed to me to have its advantages.
Ed was shaking his big head. "Yeah, that's too bad. Me and the missus, we have us a doozy every now and then. But we always work it out. Got the kids, ya know?"
"Kids make a difference."
"They sure do. Makes ya think about something other than yourself."
Our quarry emerged from the bar. "Okay, Ed, here we go."
We got out of the car and made for the intended recipient of the summons I had in my hand. He was preoccupied with the hotty on his arm. Ed and I moved in. He got behind the couple and I positioned myself in front.
"Darren Clay?" I asked.
"Who wants to know?"
"I do. I have something for you, if you're Darren Clay."
"Get the hell outta my face."
He took a swing at me and I got out of the way just in time.
Ed grabbed him and the hotty started screaming. I turned to her and she took off running back to the bar. A crowd was beginning to gather. Ed had Clay in a half-nelson. I shoved the papers into Clay's jacket pocket, told him he was served, and headed for my car. Ed let him go and the clown ran up behind me, pushed me down, and smacked my left cheek with his fist when I started to get up. That was before Ed caught up and koshed him a good one. Clay dropped to the pavement like a sack of groceries.
A guy from the crowd charged Ed and got backhanded by Ed's sap. He too lay crumpled on the ground.
A siren was blaring and a cop car pulled into the bar's parking lot, screeching to a halt. The crowd vanished at the same time an amplified voice told everyone to freeze.
"Aw, hell," Ed muttered.
We froze and two officers got out, guns drawn. They got within ten feet of us when one of them said, "Harry Wright, is that you?"
I recognized the voice and face. "Hi, Josh. Yeah, it's me."
"What the hell's going on?" Josh motioned to his partner and they holstered their weapons.
"Just serving a summons to this fellow." I pointed to Clay. "He didn't want to be served. Took a swing at me, I served him, then he pushed me down and punched me. Ed, here, incapacitated him."
"And that guy?" Josh point to the other fellow, who was now picking himself up off the pavement.
"He attacked Ed and Ed defended himself."
"Ed work for you?" Josh asked.
"Yes."
Josh turned to his partner. "They're okay, Seth. I know Harry. Helped stop my daughter from being kidnapped four years ago."
Clay was getting up. "I want to press charges. They attacked me."
Josh turned to Clay. "Were you served a summons?"
"It's in his coat pocket," I volunteered.
"What's the summons for?" Josh asked.
"Domestic violence," I answered.
"Shit." Josh's tone of voice and the look on his face were not at all friendly. "Get the hell outta here before I beat the crap out of you myself."
Clay spat. "Cops. Mofo bastards."
"Get the hell outta here and get out fast." Josh's voice was quiet, but there was plenty of emotion in it and not the kind indicating he wanted to be best friends.
Clay and the other fellow left.
Josh turned to me. "Nothing to worry about, Harry. Go home and get some ice on that shiner."
"Thanks, Josh."
We shook hands.
Ed and I got into my Focus. I started it up, put it in drive, and began the trip to Ed's place to drop him off.
"So you rescued his daughter?" Ed asked.
"Stinky, actually. I was there, but Stinky's the one who talked the guy into letting her go."
"Yeah, that'll earn ya some points. Sure miss Stinky. Wasn't much to look at. Sure did get results, though."
"That he did. Our lucky night Josh answered the call."
"Yeah. Should buy a lottery ticket."
"Maybe two."
"Yeah. Maybe two."
***
The time was twelve after two when I walked through the back door. The lights were on, which meant Bea was waiting for me. Buddy, her Affenpinscher, greeted me, tail wagging. I scratched behind his ears and walked on in to the living room, where I found my honey lying on the couch with Isis, Tina's Sphinx cat, cuddled next to her, both sound asleep. I leaned down and kissed her.
"Hi, Hon, I'm home. Let's go to bed."
Her eyes fluttered open. "Hi, Harry." She reached up to touch my face. "Oh, my God! Harry, you're hurt! Let me get ice." She got off the couch. "Lie down."
"Bea—"
"Lie down. I'm taking care of my man."
I couldn't help but smile. "Okay, Buttercup."
Into the kitchen she went and Isis was relegated to the floor where she was joined by Prudy, Tina's Maine Coon, Manley, Tina's Manx, and Buddy. The critters sat in a row looking at me to see what all the fuss was about. In a minute Bea came back with an ice bag and towel. She put the ice on my face and I held it there.
"Get the Arnica from the medicine cabinet, would you please? It'll take care of the bruising or at least lessen it."
"Okay." And off she went. Soon my little Bea was back with the medicine and a spoon. She sat next to me on the couch. At five-three and not even a hundred pounds, she doesn't take up much room. I put a couple tablets into my mouth and let them dissolve under my tongue.
"Speaking of 'Buttercup'," Bea said, "Cal stopped by earlier."
"He did? What did he want?"
"He wanted to see Tina. I told him she wasn't home and I didn't know when she'd be back. He seemed at a loss for words, so I invited him in. He then asked if she'd be available tomorrow.
"I said, 'I don't think so, Cal. She's not here.'
"He said, 'Look, Bea, I know you're—'
"And I said, 'Honest, Cal, she's not here. Hasn't been for months.'
"When I said that he mouthed the word 'months' and sat on the deacon's bench. I said, 'Yeah. She's been gone for like six months, I think.'
"He was like in shock and just sat there for awhile. I sat next to him. I held his hand. I think he needed it."
"Probably."
"Then he asked if she was seeing someone and I told him I didn't know because we haven't heard from her in like six weeks. He turned his head and looked at me and said, 'Really?' And I said, 'Yeah.' He looked down at his hands and put the hand I wasn't holding over mine.
"He was quiet for quite awhile, finally he said, 'I've really messed this up. Nikki and I aren't seeing each other anymore. She's even gone back to Vice and uh, I… Aw, shit, Bea. I love Tina and I really screwed things up royal.'
"I said, 'You were pretty shitty to her, Cal, and hurt her really bad.'
"His voice was very soft. I almost didn't catch it. He said, 'I know.'
"Then he got kind of official and said, 'You haven't heard from her in six weeks? Have you notified anyone?'
"I said, 'Cal, who can we notify? We don't have any idea where she is.'
"He stood and said, 'I'll see what I can find out. I'll let you know.'
"We said goodbye to each other and he left."
"Interesting, hon. It might be a case of too little too late. Tina isn't going to forget what he did and to be honest I can't blame her."
"I know, Harry. That's what's so sad. I thought I messed up relationships. Those two… They take the cake. They're crazy in love with each other and constantly blow it up."
"Yes, they do. It's pretty bizarre if you ask me."
"It is. Let me see your face."
I took away the ice and she leaned down and kissed the bruise.
"That's to make the owie go away."
She moved to my lips and kissed them. I put my arms around her and kissed her back. The kiss deepened and when our lips parted, she murmured, "I love you, Harry."
I whispered back, "I love you, Beatrice."
She giggled. "That's a mouthful."
"It is."
"Here. Let me fill your mouth with something else." She kissed me, filling my mouth with her probing tongue. She started to withdraw and I sucked it in, held it, then let go.
She sat up and took off her shirt and I lightly ran my fingers across her bare flat chest. Her little nipples were erect and hard. I raised my head and kissed each one.
"Take me to bed, Harry." She stood.
I got off the couch, scooped her up in my arms, and climbed the stairs to our room, kissing her all the way. Then, in our bed, we loved each other for a long, long time.
***
Bea is the most passionate person I know. In our lovemaking it is no holds barred with her. And to think she was so insecure when I first met her. All she needed was someone to accept her and love her for who she is. When I did, she burst into bloom. She's become a confident woman and doesn't take much crap from anyone.
Before she came into my life, things were okay. Now? Without her, life would be a great big black hole.
Tina and Cal are the same really. They love each other and are good together. However, each one is afraid of something and, whatever it is, it tears apart two people who should be together and too often aren't.
2
Liquid Night
Early Sunday Morning
September 21st
The alarm went off at six. Early for a Sunday morning, I know, but Bea and I were working on a case. We needed to be at Summer Tollefson's townhouse to photograph dew on Dale Arneson's car, as well as the "V" I'd marked with permanent marker on the rear passenger-side tire. All this to prove Dale was violating his separation agreement with his soon to be ex-wife, Judith. She was of the opinion Dale's girlfriend, Summer, was a bad influence on little Jimmy Arneson. Therefore, when Dale had weekend visitation, there was no Summer. At least that was the agreement.
In actuality, in Dale's world there was nothing but Summer. And this was the second weekend we'd caught Dale, Summer, and little Jimmy spending, hopefully, for their sake, quality time together. Two more weekends of photographing the separation agreement violation and we'll have earned our three grand and Judith will have gotten her proof to ball-bust the man who once was the love of her life.
I parked the car on the street. The wind was gusty and the temp was in the mid-fifties with an overcast sky. Probably no dew to photograph. A few people were out and about. Joggers, walkers, a cyclist. A walker waved and said, "Good morning". I waved back.
With camera in hand, I walked up the drive which separated the two sets of quad homes. Dale Arneson's car was in the same spot where it was last night when I'd taken a picture of it with the house number. A look at the "V" indicated the vehicle hadn't moved. I took pictures of the "V", of the car and house number, and that's when I realized someone was in the car.
"Great, Harry," I said to myself. "You're slipping up in your old age."
How long had the person been there? Why hadn't he or she started the car? And why hadn't I noticed. Too doggone eager to take the pictures and skedaddle on back home. I took a closer look. The person was a man sitting behind the wheel. And the man was Dale Arneson. He wasn't moving. He didn't see me, even though his eyes were wide open. My guess as to why he was't moving and didn't see me was that it had something to do with the fact the front of his shirt was very wet with what looked like blood.
***
Lieutenant Cal Swenson of Minneapolis Homicide, the same Cal Swenson who broke my sister's heart, had finished taking Bea's and my statements, told us he was working on trying to locate Tina, and said we were free to go. And go we did.
On the way back to home, sweet home, I decided to let the police break the news to our client that her husband was dead and her son, along with her husband's girlfriend, was missing. The information wasn't something I wanted to give Judith Arneson at eight o'clock on a Sunday morning. Besides, I was just a wee bit pissed someone had stiffed us out of fifteen hundred bucks and felt my tax dollars needed to do some work. So let the Minneapolis police department tell Judith her kid's missing.
When we arrived at the little mansion on West Franklin, which we call home, there was a strange car parked at the curb and end of the walk to the front door. Bea stopped and I got out of her little Fiat. While she parked in the garage, I walked all around the machine that was a chunk of solidified liquid night. Bea joined me.
"What is it, Harry?"
"At first guess, I'd say it's a car."
She hit my arm. "Of course it's a car, silly. What kind of car?"
"An expensive one, is my guess."
"Like the Maserati I gave you, which you never drive?"
"Yeah. Kind of. Only I have a feeling this machine would make the price tag on the Maserati look like chump change."
I looked at the symbol but it didn't conjure up any automakers I was familiar with. My car's a Ford. Yes, Bea gave me the late Alicia Harris' Maserati. The late Alicia being Bea's former hife, which is a Tina-ism for the spouse in a same sex marriage. And Bea is right. I never drive the thing. Rarely drive it is probably more accurate. Mostly because where I'm often required to go it's risky to drive a junker, let alone a car costing an eighth of a million bucks. Besides, I'm a Ford guy and I like my Focus wagon. I do have to say one thing, though: in looking at the vehicle before me, no one at Ford could even dream of something like this. The machine parked at the curb was a creation of true exotic beauty.
The piece of sculpted midnight was unoccupied. I shrugged, took a look up and down the street, and concluded the car probably belonged to someone visiting one of our neighbors and the person was just rude enough to park the thing in front of our walk.
"Come on, Babe, let's go in and get some breakfast."
Holding hands, Bea and I walked up the walk to the house. She had her key ready, unlocked the front door, and I pushed it open. Our noses took in the smell of bacon. Bea and I looked at each other and ran to the kitchen. There was Tina, cooking eggs and bacon. Buddy was sitting at her feet hoping for a handout, along with all three of her cats.
Share This!