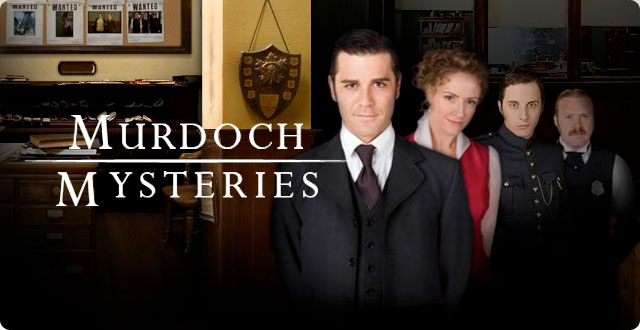 Steampunk is alive well. Not only as a sub-genre of speculative fiction, but also as a lifestyle movement and a musical genre.
A few weeks ago, while looking for something to watch on Netflix streaming, I stumbled upon the retro-detective series Murdoch Mysteries. I fell in love immediately. I mean who wouldn't love a show that features Nikola Tesla in the first episode? I've been binge watching ever since.
Some people might not call Murdoch Mysteries steampunk. And in a very real sense it isn't. At least it isn't traditional steampunk. However there are many steampunk elements that the writers incorporate in the episodes, so I call it steampunk light.
Detective William Murdoch, of Toronto Constabulary's Fourth Station House, is an amateur inventor and a scientific sleuth worthy of Sherlock Holmes's shoes, Inverness cape, and deerstalker hat. But Murdoch wears none of those. Just a conservative 1890s suit and Homburg, the classic hat worn by Winston Churchill, among others.
The show begins in the mid-1890s and in season six enters the new century. Numerous inventions are featured that were either invented or discussed at that time and some of them Murdoch himself invents to help him solve crimes. Also a feature of the show are the famous personalities who appear as part of the storyline; people such as Tesla, Henry Ford, Winston Churchill, Sir Arthur Conan Doyle, Jack London, and HG Wells.
The episodes are filled with humor and historical puns, such as when Constable Crabtree claps his hands to activate a sound activated switch (the Clapper of modern day fame), which makes the series almost a comedy were it not for the seriousness of Murdoch and the murders he's trying to solve.
I believe the success of this series lies in the interaction of the main trio of characters: Detective Murdoch, Constable Crabtree, and Inspector Brackenreid. Murdoch is unrelentingly serious and conservative, in spite of his love of science, technology, and invention. When he invents "Silly Putty" to capture newsprint he can't read on the inside of a wallet, Brackenreid wants to take some home for his boys because they would love the silliness of it. Murdoch rebukes him that the putty is not a toy.
Crabtree aspires to be like Murdoch, but has an imagination that enables him to see practical applications of Murdoch's and other inventors's inventions that they themselves don't see or dismiss. When a microwave machine shows up in Murdoch's office, having been used as a weapon, Crabtree envisions it could be used to bake potatoes. When told the machine would have to be the size of a room, Crabtree goes on to imagine homes being built in the future with potato baking rooms. Eventually in the course of the series, Crabtree puts his imagination to use and writes a novel.
Brackenreid is an old school cop who in the beginning has little toleration for Murdoch's odd methods. He's a blustering blowhard, who is really a marshmallow on the inside.
Of course no series would be complete without a love interest and that we have between Murdoch and the very progressive coroner, Doctor Julia Ogden.
The series also explores many social issues and can therefore be seen as a commentary on our own age, which in many ways isn't much different from Murdoch's.
As I noted above, many might not see Murdoch Mysteries as steampunk. But whatever genre you decide to call the series, the series is riotously good fun. Very highly recommended.
As always, comments are welcome and until next time — happy reading!
Share This!