Today, I'm going to show you some of my favorite pens.
Below right is the Brause No. 361 Steno Pen and below left is the Nikko Nihon-Moji No. 555 pen.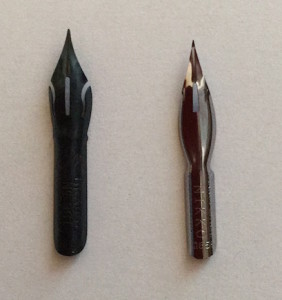 Both of these are current production pens and equally match the quality of vintage steel dip pens. Brause is German and Nikko is Japanese. They are excellent writing pens. The Brause is about a medium width and the Nikko is extra fine. You can find them at art supply stores in the calligraphy section. I also get them online from John Neal Bookseller.
Steel pens were first invented in 1803. Through technological refinement they became viable writing instruments in the 1830s and by the 1850s had replaced the quill pen as the writing instrument of choice. The steel pen remained in regular use well into the 1940s. I know folks who learned to write using steel pens, my father being one and a pen pal being another. They were using them in the 1940s.
Vintage dip pens are available today. I get mine from eBay and my favorite place, Pendemonium. They are generally superior to any modern made dip pen. Below are 4 of my favorites.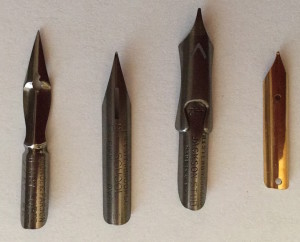 From left to right: Baignol & Farjon Henry Supérieure No. 2730EF; R. Esterbrook No. 756 School Fine Oval; R. Esterbrook No. 442 Jackson Stub; and the R.L. Arnold No. 736 Gold Plated, Iridium Tipped, Stainless Steel pen.
And yes, I regularly write with these pens. I find them easy on my tendonitis because they only need a light hand to produce a very readable line. In fact, I prefer them even to my beloved fountain pens because I can get by with even less pressure using a dip pen.
Give the steel dip pen a try! They are especially fun when you set out a bunch of your favorite colors of ink and have one pen for each color. Then have at it! Instant rainbow in more colors than gel pens can provide.
The retro-future is a great place to be!
Happy writing!
Share This!