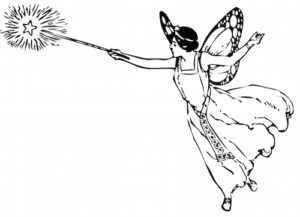 We writers are constantly looking for the magic formula for success. We want to quit our day jobs and live off of the bucks flowing from our pens or keyboards. The success of J K Rowling, Stephen King, Danielle Steel, Tom Clancy, and others, fuels our imagination and dreams.
But what is the key to success? What is that magic formula? Is it social media? Or Facebook ads? Or maybe Amazon ads? Perhaps it's paid reviews, such as Kirkus.
Or maybe indie success story Hugh Howey is right: there is no magic formula and success is just dumb luck. Keep writing and hopefully you'll sell something.
I jumped into the self-publishing pond in 2014. Mostly because I'd read too many horror stories of writers getting screwed by publishers and agents. But also because being 64 I don't have time to wait around for someone else to decide if I'm good enough or not. Let the public decide.
So in November 2014 I published 4 books and 2 more in December and waited for the money to roll in. It didn't. It dribbled in and the dribble gradually turned into the occasional drip.
I looked for the magic formula to jumpstart sales. Unfortunately, I quickly discovered magic doesn't exist.
However, amongst all the noise pretending to be magic, the successful indie authors continued to be of one accord. To have any hope for success, writers need to:
write well
write lots, preferably in series
publish often
What wasn't said was how to put those things into a coherent plan and they didn't mention anything about a mailing list. In the early days, I don't think a mailing list was necessary. Today it is. The independent author/publisher is basically no different than a mail order company. And they succeed or fail on their mailing list. I spent $700 to learn that tidbit. Now I just saved you some money.
Nevertheless, how to do what the successful writers did remained a mystery.
About a month ago, I discovered author Patty Jansen's key to success. It is the best formula I've found in the couple of years I've spent looking for the magic marketing machine. Her post — The Three-Year, No-Bestseller Plan To A Sustainable Income From Self-Publishing — is a must read for any writer who wants to make a living from writing.
There is no magic wand, my writer friends. There is only hard work and maybe, possibly, hopefully success. What I found encouraging — supremely encouraging — in Patty's post was she has never had a bestseller. Yet, she makes 3K-5K/month (2016) and noted that her income has doubled every year. I have lived comfortably on 60K/year.
I don't want to rehash her post here because it's best if you read if for yourself and contemplate on it. However, I do want to emphasize a few points. Patty wrote that in order to succeed writers need to
write well
write lots
write in series
publish often
build a mailing list
It goes without saying writers need to write well, and the only way to learn how to write is by writing. Not rewriting, not editing, but writing. Edgar Rice Burroughs (the guy who created Tarzan) supposedly said if you write one story you have an almost 100% chance of failure and if you write 100 stories you have an almost 100% chance of having at least one success.
An indie writer needs to write lots. We are the 21st century's version of the pulp fiction writers of the '20s, '30s, and '40s. Those writers had to write lots if they wanted to pay the rent and put food on their table. They didn't have time for oodles of rewrites and edits. Robert Heinlein noted that one should never edit unless the editor makes you. Writers write.
Indie authors need to write in series. Doing so generates traction and keeps one's name in front of the reader. As does publishing often.
And we need to build a mailing list. After all, what would we do if Amazon suddenly changed the rules and was no longer indie friendly? Most of us would be in a world of hurt. But not so much if we had a mailing list of devoted fans.
Patty's post gives more detail and you, my writer friends, need to read it and embrace it.
In fact, her post completely revolutionized my thinking. Suddenly I had a workable game plan to follow. Where I had been wandering in the wilderness, I now had a GPS with destination keyed in. Hopefully, by 2020 I'll be making some bucks from my writing.
I'm lucky. Being retired I have a lot of time in which to write and work on marketing. Being retired also means I have an income coming in that I don't have to work to get. Which means I can get by very nicely with 20K or 30K from my writing. It would make a super supplement. I won't turn down more by any means. After all, my dream car is a Rolls Royce.
Read Patty's post and follow it. Save yourself some time and a pile of money. It's a super simple solution to the question 'What do I need to do to make a living from my writing.'
As always, comments are welcome! And until next time, happy reading!
Share This!