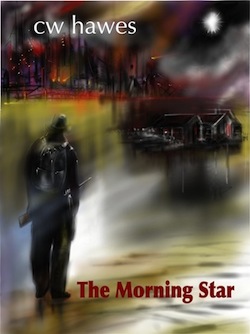 The Rocheport Saga is part philosophy, part family saga, part satire, part libertarian thought, part action/adventure novel, and all post-apocalyptic speculation. It is my contribution to the cozy catastrophe sub-genre of post-apocalyptic fiction.
The story structure is that of one of my favorite forms: the epistolary novel. The story is told by means of diary entries from a man named Bill Arthur, with occasional diary entries from other characters.
Bill's diary begins eight months after the cataclysm that kills off most of humanity, the event he simply calls "That Day". The first sentence he writes is "Today I killed a man and a woman." He follows that sentence with a brief explanation of what life is like in the new world where everyone is faced with a daily struggle to survive and where some do not make it.
Today I killed a man and a woman. I didn't want to, but I had no choice. It was me or them. This is how it is now. How it has been for not quite eight months. Everyone on his or her own. The quick or the dead. It wasn't how it used to be, though. We complained about the old days. Now anyone who remains would do anything to return to even the worst of the old days. But they are gone and will not return for a very long time. Maybe never.
The focus in the cozy catastrophe is on building a better world out of the ashes of the old one. And The Rocheport Saga is no different.
There is no focus on and very little discussion of the disaster. It happened. It was horrible. And now we must move on. The milk is spilt. No sense crying over it.
And Bill Arthur doesn't. His quest is to preserve as much knowledge as possible and bring the Twenty-first Century back on line as soon as possible.
Of course no story, even one that is essentially "plotless", can survive without conflict, and Bill has plenty of conflict in Rocheport. All the way from the silly and inane to the deadly serious and life threatening.
Next week we'll take a look at the books published thus far in the series and provide a synopsis of each.
Until then, happy reading!
Share This!