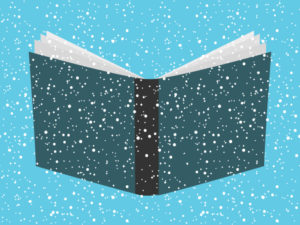 Winters in Minnesota can be very long and very cold. They are perfect for curling up by the fire, wrapped in a blanket, and with a good book in hand.
Next week the weatherman is saying that our warm spell is over. Our highs in the Minneapple will only be in the 20s Fahrenheit. That is some chilly weather with which to start December, and that means out come the books.
I have a couple stories I intend to re-read during the Yuletide season. They are Lovecraft's "The Festival" and Crispian Thurlborn's A Bump in the Night. Both are excellent holiday reads by master craftsmen of the written word.
As for new (to me) books, I have on my list the following:
Mannegishi by Ben Willoughby. Mr W is a very fine storyteller. He truly deserves a much wider audience.
Ganbaru by Michael Cormack. I met Mr Cormack on Facebook quite incidentally. I'm glad I did. He writes post-apocalyptic books just how I like them: cozy catastrophes in the manner of John Wyndham, John Christopher, JG Ballard, and George R Stewart. I'm almost finished with his Don't Dream It's Over. A superb read. Mr Cormack very definitely deserves a much wider readership.
I love Kazuo Ishiguro. I've read his books An Artist Of The Floating World and The Remains Of The Day. I've also seen the movie versions of The Remains Of The Day and Never Let Me Go. So I'm thinking I might start with his first book A Pale View Of Hills and then go on to read Never Let Me Go.
The older I get the more I find that I truly enjoy reading traditional mysteries. At first I pretty much limited myself to private detective mysteries. But recently I've found myself branching out into the realm of the amateur sleuth. And I'm enjoying the foray. So I'll probably add a few mysteries to the pile. Perhaps a couple Nero Wolfe novels. It's been a long time since I've read any Nero Wolfe and he's long overdue for re-reading.
I'll also probably spend a little bit of time looking at those free books that I've downloaded over the past year and haven't read. There will probably be a gem or two that will make for fine winter reading.
Do you have any favorites you will be revisiting over the winter months? If so, do let me know what they are in the comments below. I'm always on the lookout for a good book.
Until next time, happy reading!
Share This!